#1797: 8 Reales 1622 Cartagena. 22.213 grams / gramos.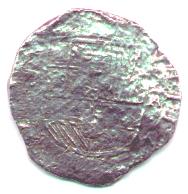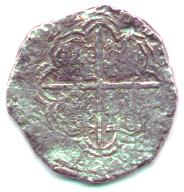 Obverse: Early style Habsburg shield with small escutcheon of Portugal superimposed on the arms of Castile and Leon. Small triangle beneath the small shield of Portugal, containing a dot for granada, distinguishing this type from the Philip III style which does not have a triangle nor granada. Assayer A visible to right of shield. The RN mint mark for Cartagena is not visible, it would be to the left of the shield. Reverse: Arms of Castile & Leon, arranged in a cross, 1622 date. R/L M42-1, C&T not listed.
Anverso: Reverso:
The coin illustrated here, #1797, was recovered from the Atocha, in 1986, artifact number TSI-86A-109169. This coin is of Philip IIII and has four digit date of 1622, but only the 22 is clear. In the Christies [1] sale of Atocha material in June 14-15, 1988, they offered lot 307 which had a clear ordinal IIII of Philip IIII, clear RN mint mark to left of shield and clear assayer A to right of shield, confirming that this type is Philip IIII.
[1] Gold and Silver of the Atocha and Santa Margarita, Auction Sale June 14-15, 1988. (New York: Christies, 1988) page 209, lot 307.