Obverse: Habsburg shield with Castile and Leon in reverse order. Mint mark is N/R R. Assayer is E/R. Reverse: Cross with castles and lions. R/L M45, L/R M45C, C&T Type 87A.
Anverso: Escudo de Habsburgo con castillos y leones en orden reversa. La marca de ceca es N/R R. Ensayador es E/R. Reverso: Cruz rodeada por octolobo con castillos y leones en los cuarteles. R/L M45, L/R M45C, C&T tipo 87A.
Mint Mark Study

For study purposes we are fortunate that the letters N & R for the mint mark, and the E for the assayer are visible on the reverse of the coin. There is no guarantee that the same punches were used for the reverse as was used for the obverse but there is a strong likelihood that they were. In the enlargement to the right you can see the E and the R from the reverse side, superimposed for comparison. The E must be punched over the R, because the bottom is complete, no longer has a curve to separate the right leg of the R, also the slant of the upper right hand side must be from the E as the R does not have this slant.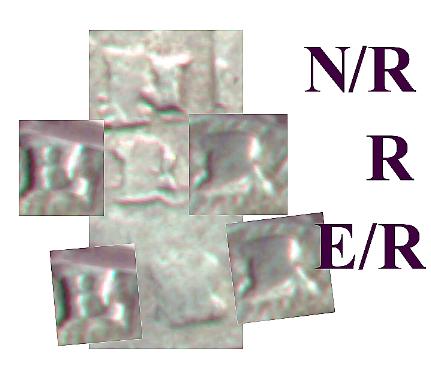 Click / clic
Estudio en marca de ceca
Para los propósitos del estudio somos afortunados que las letras N y R para la marca de ceca, y la E para el ensayador son visibles en el revés de la moneda. No hay garantía que los mismos sacadores fueron utilizados para el revés como fue utilizado para el obverse pero hay una probabilidad fuerte que eran. En la ampliación a la izquierda usted puede ver la E y el R del reverso, sobrepuesto para la comparación. La E se debe perforar sobre el R, porque el fondo es completo, no más largo tiene una curva para separar la pierna derecha del R, también la inclinación de la cara derecha superior debe ser de la E pues el R no tiene esta inclinación.
This coin is not sea salvaged, it looks like the coin is from a land burial. Similar design to number 1808, particularly the Lion/Castle in the obverse shield.
Esta moneda no es el mar salvado, parecer la moneda es de un entierro de la pista. Diseño similar al número 1808, determinado el leon/castillo en el escudo anverso.