An un-salvaged coin with weak date. First observations of this piece hint that it is of assayer "R", Pedro Ramos. This is because the bottom left castle on the reverse is reminiscent of an assayer "R" eight reales recovered from the wreck of the Vergulde Draeck and illustrated in Restrepo/Lasser as M44-18. However, upon close study we determined that the punch for this castle was used over a 30 year period, so that it's use alone does not identify the coin as a Ramos piece.
Note the absence of the inner ring around the peripheral legend on the reverse. We classify the coin as Restrepo/Lasser variety because the assayer, even though it is not visible, is not located to the right of the shield.
Moneda no recuperada de un naufragio, con fecha débil. La primera impresión es que se trata de una pieza del ensayador Pedro Ramos, porque el castillo inferior recuerda los de los 8 reales del ensayador "R" recuperado del naufragio del Vergulde Draeck y que está ilustrado en Restrepo/Lasser bajo el código M44-18. Sin embargo un estudio más minucioso nos demostró que el punzón para este castillo se usó por un período de 30 años, así que su uso no permite identificar la pieza como de Ramos. Nótese la ausencia de un anillo hacia adentro de la leyenda del reverso. Clasificamos la moneda como variedad de Restrepo/Lasser porque el ensayador, aunque no es visible, no está situado a la derecha del escudo.

Concerning attribution. Attribution of this coin as 1628 P is tentative as their are insufficient details present to be completely certain. By comparing the piece with the coins illustrated in Restrepo/Lasser attribution could be made for R/LM44 - 21, see illustration :
Respecto a la atribución. La atribución de esta moneda como P 1628 es tan tentativos que sus son los detalles escasos presentes estar totalmente seguros. Comparando esta pieza con las monedas ilustradas en la atribución de Restrepo/Lasser podría ser R/LM44 - 21, ven la ilustración: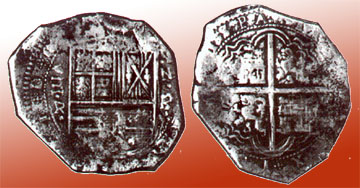 R/L M44-21 used with permission.