Philip III / Felipe III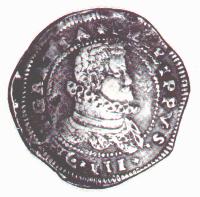 image © Ponterio & Associates
used with permission
Colombia did not issue portrait coins of Philip III, the piece illustrated here is from Messina Sicily.
Colombia no emitió monedas con la imagen de Felipe III. La pieza ilustrada es de Messina, Italia.
Son of Philip II, he succeeded his father as King of Spain in 1598. Philip III contracted with Captain Alonso Turrillo de Yebra to build and operate a mint in Santa Fé de Bogotá, this was recorded in a royal order dated 1-April-1620 [1]. The contract was amended on 10-June-1620 [2] to specify rights to open and operate a subsidiary mint in Cartagena de las Indias, this was to meet the demand for money in the vicinity of Cartagena.
The earliest known coins from Cartagena are dated 1622 and have the name of Philip III around the perimeter of the shield design on the coins. No such coins were known to exist until recovered from the shipwrecked remains of the Nuestra Señora de Atocha. Since Philip III died in 1621, these coins must have been made before the news of the new king, Philip IIII, had reached the new world. Technically these coins were made under Philip IIII, but since they have the name of Philip III, we list them here.
The first gold coins struck in the new world are among the 1622 dated Cartagena pieces of Philip III.
Hijo de Felipe II, Sucedió a su padre en el trono de España en 1598. Contrató con el Capitán Alonso Turrillo de Yebra el establemcimiento y la operación de una casa de moneda en Santa Fe de Bogotá. Este contrato quedó consignado en una cédula real fechada abril primero de 1620 [1]. Éste fue corregido el 10 de junio de 1620 [2] para especificar los derechos a establecer una sucursal en Cartagena de Indias para así suplir la demanda de circulante en las vecindades de esta ciudad.
Las primeras monedas de Cartagena están fechadas en 1622 y llevan el nombre de Felipe III alrededor del escudo. No se conocía de su existencia antes de su recuperación de los restos del del velero Nuestra Señora del Atocha. Felipe III había fallecido en 1621 así que en la fecha de acuñación la noticia del nuevo soberano, Felipe IIII, no había llegado al nuevo mundo. A pesar de que tecnicamente deben considerarse como de Felipe IIII, se clasifican bajo Felipe III por ser ese el nombre que aparece en ellas.
Las primeras monedas de oro acuñadas en el nuevo mundo pertenecen a este grupo de piezas de Felipe III fechadas en 1622.